May 27th Meeting of Panhandle Piecers
held at the home of Beverly Armstrong, with co-hostess Gyene Spivey

We all spent a very pleasant evening in Beverly's' country home, and had lots of wonderful show and tell. We thank Beverley for inviting us to her home for the meeting at such short notice!
After having our 'snack and chat' we held our meeting and then Beverly demonstrated the wonderful (and very patriotic!) Bargello flag. This is a very simple project, as we soon found out, but one that will enhance every home, and a great idea for the 4th of July decorations.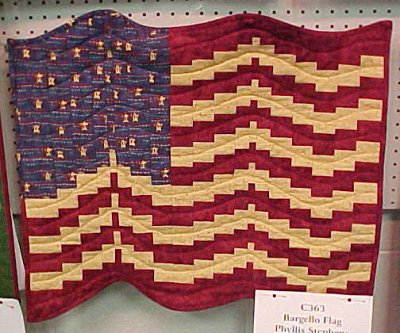 Here is the finished flag, this is Phyllis Stephen's quilt, on display at the Liberal Y2 Quilt Show