March 25th Meeting of Panhandle Piecers
held at the Texas County Memorial Hospital
We met at the Texas County Memorial Hospital on a Saturday morning, and we then spent a very productive day making quilts and blankets for the Pregnancy Crisis Center here in Guymon, Oklahoma.
For those of us that came, we had a very special day, sharing each others company, and all the while producing receiving blankets and crib quilts for the babies of young girls who approach the Pregnancy Crisis Center for assistance.
We thank Karen McKilligan for taking these photos.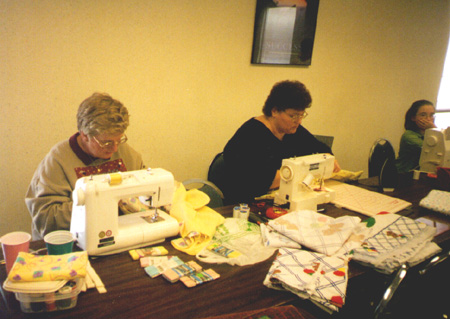 We made about 40 quilts and receiving blankets, in just a few short hours!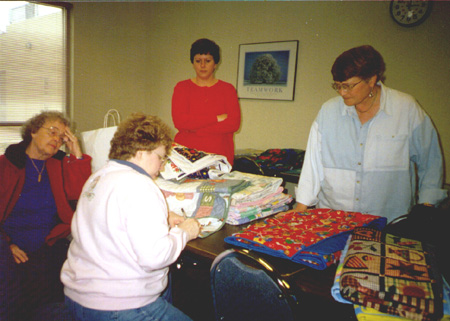 Here we see Cheryl signing the quilts on behalf of the group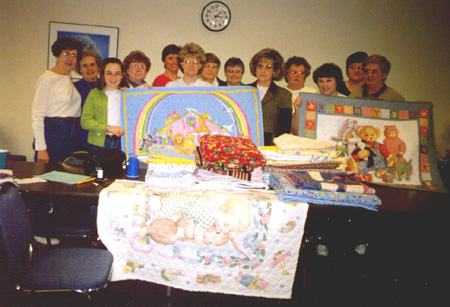 Displaying our work at the end of the day, presenting the quilts to a representative of the Pregnancy Crisis Center.
A letter from the Crisis Center to Panhandle Piecers:
We want to express our deepest thanks and appreciation to your club for the beautiful quilts that you so generously gave to us. The quilts will be such blessings to the young women who receive them. We know that a lot of time and talent went into the making of these quilts. Thank you for sharing in the ministry with us. God bless you all.

Hope Crisis Pregnancy Center, Guymon, Oklahoma