Welcome to the Homepage of the Panhandle Piecers Quilt Club!
We are a group of ladies situated in and around the city of Guymon, in the Oklahoma panhandle who gather together once a month to share our love of quilting
We meet in each others houses, or in church or community halls, and spend a pleasant hour or two enjoying each others company, and discussing our favorite subject of quilting!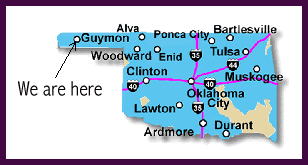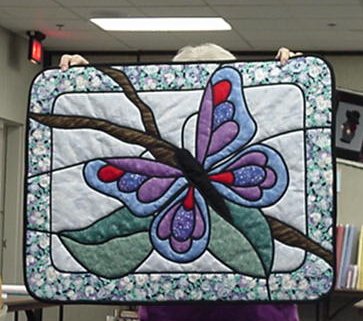 We are really getting 'into' stain glass quilting right now!
Check out our Gallery page for more of these
beautiful creations.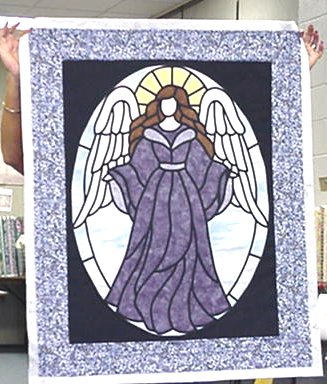 Page updated December 13th, 2000


Graphics updated :-)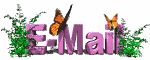 Thanks to Pat for the graphics on these pages
We have had


Visitors to our page
FastCounter by LinkExchange

"ODE TO MY WIFE THE QUILTER"
She learned to quilt on Monday,
Her stitches were very fine,
She forgot to thaw out dinner,
So we went out to dine.
She quilted miniatures on Tuesday.
She says they are a must.
They really were quite lovely,
But she forgot to dust.
On Wednesday it was a sampler,
She says the stipling's fun
What hi-lites! What shadows!
But the laundry wasn't done.
Her patches were on Thursday,
Green, yellow, blue and red.
I guess she really was engrossed,
She never made the bed.
It was wall hangings on Friday,
In colors she adores.
It never bothered her at all,
The crumbs on all the floors.
I found a maid on Saturday,
My week is now complete.
My wife can quilt the hours away
The house will still be neat.
Well, it's already Sunday,
I think I'm about to wilt,
I cursed, I raved, I ranted,
The MAID has learned to QUILT!
--Unknown


If you came to this page from another site and there are no frames, click here to see the framed site