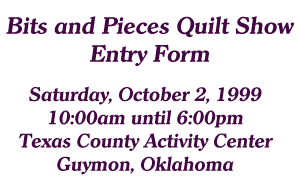 (Please complete one entry form per quilt)
Entries will be accepted through September 15, 1999. Any entries received after that date will not be included in the show catalog. We encourage entries that have not been exhibited in this show before.
Quilts will be accepted on Friday, October 1, 1999 at the Texas County Activity Center, 5th and Sunset, Guymon, Oklahoma between 2:00pm and 6:00pm. The name and address of the owner must be affixed to the quilt. Quilts will be released at 6:00pm Saturday October 2, 1999.
For more information contact Mollie Mathis at 580-338-7090 or Faye Costner at 580-338-6656.