WELCOME
Welcome to the September newsletter. This first cold weather of autumn is a reminder that Thanksgiving and Christmas will soon be on us. Time to get out those holiday patterns and start getting ready to decorate the home for the family gatherings to come!

SEPTEMBER MEETING
The September meeting will be held on Thursday September 28th at 7:00pm. Our hostess will be Angie O'Hara, and the meeting will be held in her Goodwell home. The nominating committee will announce the club officers for the following year.
As always, we'd love to see everyone attend the meeting, but if you are unable to attend, please inform the hostess a few days before the meeting.
---
Brushing your child's hair is one of life's great pleasures
---
HISTORY LESSON.......
The quilting bee was an important means of socializing for colonial and pioneer women (and men). Through the winter months, the women would piece their quilt tops. Since there was no central heating in these homes, there was usually only one main heated room that was too crowded during the winter months for a quilt frame to be assembled. When the weather became warmer, an invitation was sent to the surrounding neighbors for the quilting bee.
On the day of the quilting bee, the quilters would arrive early and begin marking the quilt top which had been put into the quilt frame by the hostess. Very often, plates, thimbles and tea cups were used to mark the quilting patterns. The quilters would then being to quilt the top while exchanging conversation. The quilt had to finished before the husbands and beaus showed up in the late afternoon when dinner was served to all, the hostess being given a chance to show off her cooking skills. After dinner, there was very often a square dance or country dance with fiddles accompanying the dancers. The quilting bee was an important part of the social life of these people surpassed only by religious gatherings.
A supervisor at IBM's Watson Center placed a sign directly above the sink in a restroom, hoping to motivate his staff a little. It had a single word on it: "Think!"
The next day, when he went to the restroom, he looked at the sign he had posted, and right below, immediately above the soap dispenser, someone had carefully lettered another sign which read: "Thoap!"

SEWING DAY.......
Some of us met at the hospital on Saturday September 16th, and had a lovely day sewing a stained glass wall hanging for Cheryl's lecture and demo in early October. If you have never tried stained glass quilting, be warned - it's addictive! I have been collecting some wonderful stain glass designs since that day, and I am eager to create all of them, time permitting!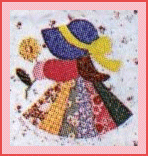 HELPING HANDS
This is the list of items that we will be donating each month for the Domestic Centre.

AUGUST - soap
SEPTEMBER - shampoo/conditioner
OCTOBER - comb or brush
NOV/DEC - christmas gift, toy etc, for the children

---
There are people who love you dearly but just don't know how to show it.
---
BLOCK OF THE MONTH .....
During the August meeting Tamra Clawson collected some of her applique blocks, and they looked beautiful together. That is going to be one gorgeous quilt!
We had a reprieve of sorts, as no one was ready to give out their block at the meeting. But don't forget, anyone who is now ready to give out their blocks may do so, you don't have to wait your 'turn'!

CARING THOUGHT..........
I received an email from Cheryl a couple of days ago, and this is what she had to say:
"I just talked with Ida Baugh at the Northwest Domestic Crisis Center about something that was totally unrelated to PP monthly donations. During our conversations she mentioned that their shelter is in extreme need of towels, wash cloths, pots, and pans. She said she'd taken all of her personal old thread-bare towels and wash cloths to the shelter but that they could use some more if anyone in our group had any they could part with."
Wouldn't it be nice if we sorted through our closets and kitchen cupboards, and came up with some of the items listed above to donate? If you can donate any of these items, please bring them to the meeting on Thursday, and we will organise to get them to the Crisis Center. Thankyou ladies.
CLOSING THOUGHT..........
How many dogs does it take to change a light bulb?
*Golden Retriever: The sun is shining, the day is young, we have our whole lives ahead of us, and you're inside worrying about a light bulb?
*Dachshund: I can't even reach the stupid lamp.
*Toy Poodle: I'll just blow in the Border Collie's ear and he'll do it. By the time he's finished rewiring my house, my nails will be dry.
*Rottweiler: Go ahead! Make me!
*Shi-tzu: Puh-leeze dah-ling, let the servants.......
*Labrador: Oh me, me, pleeeeeeze let me change the light bulb! Can I, can I, huh, huh, can I?!
*Cocker Spaniel: Why change it? I can still pee on the carpet in the dark.
*Doberman Pinscher: While it's dark, I'm going to sleep on the couch.
*Mastiff: Mastiff's are NOT afraid of the dark.
*Chihuahua: Yo quiero taco bulb.
*Pointer: I see it , I see it, there it is, it's right there....
*Greyhound: It isn't moving, who cares?
*Australian Shepherd: Put all the light bulbs in a little circle........
*Old English Sheep Dog: Light bulb? LIGHT BULB? That thing I just ate was a light bulb?