WELCOME
Welcome to the July newseltter, and as the heat wave continues, let's all try and stay cool inside, and perhaps do some quilting! With kids on school holidays though, there are just not enough hours in the day sometimes!

JULY MEETING
The July meeting will be held at the Methodist Church Enrichment Center, 4th & Quinn on Thursday July 27th at 7:00pm. This meeting will be an extra special one for us, as special guest Nancy Barrett from Oklahoma Quiltworks will be presenting a lecture on "Color, Cloth, and Quilts." If you know anyone outside Panhandle Piecers that would like to attend this meeting to hear Nancy's lecture, please invite them to come as we will have plenty of room. Cheryl and Deanna are hostesses and they would appreciate a call before July 25th to let them know if you will be bringing a guest to give them sufficient time to prepare enough refreshments.
At the June meeting a point was raised as to whether we would have our regular Show and Tell at the July meeting, seeing as Nancy Barrett would be there. I spoke to Cheryl about this, and this was her feeling: "I think it would be a good idea if we went ahead with Show and Tell. Show & Tell would give Nancy an idea of what we do, enjoy doing, what we're about, and perhaps give her a better idea for her lecture of the types of fabrics and colors we search for." So, bring your quilts, as we will have Show and Tell at the Enrichment Center!
As always, we'd love to see everyone attend the meeting, but if you are unable to attend, please inform the hostess a few days before the meeting.

---

BLOCK OF THE MONTH .....
The June meeting saw Marjie Lobit give out her pineapple blocks, which are going to look great in bright marble colors. Barb Bohlander also gave out her block that is part of a Civil War reproduction quilt she is going to do. Mary Anne received several of her butterfly blocks, and the variety in colors will make her quilt really look nice.

Don't forget, anyone who is now ready to give out their blocks may do so, you don't have to wait your 'turn'!

FEELING OLD?
Three older ladies were discussing the trials of getting older. One said, "Sometimes I catch myself with a jar of mayonnaise in my hand in front of the refrigerator and can't remember whether I need to put it away or start making a sandwich."
The second lady chimed in, "Yes, sometimes I find myself on the landing of the stairs and can't remember whether I was on my way up or on my way down."
The third one responded, "Well, I'm sure glad I don't have that problem, knock on wood," as she raps her knuckles on the table. "Oh, that must be the door, I'll get it."
HELPING HANDS
Last month we collected toothpaste and toothbrushes for the Domestic Centre. This month we have decided to supply deodorant for the men, women and children that are less fortunate than most of us. Gyene mentioned that she had taken a load of used clothes to the center that had been very well recieved, so that is also something to keep in mind if you are clearing out the closets. They need womens, childrens and men's clothing.

This is the list of items that we will be donating each month:

JULY - deodorant
AUGUST - soap
SEPTEMBER - shampoo/conditioner
OCTOBER - comb or brush
NOV/DEC - christmas gift, toy etc, for the children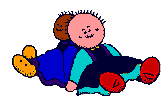 SAD NOTE......
As most of you are aware, we lost a very special and talented lady on July 8th. Darlene Goodloe passed away after losing her battle with cancer. She was staying in Broken Arrow with her daughter the last few months. You will be sadly missed, Darlene.
QUILT SHOWS
September 30 - October 1
Quiltfest 2000 - Panhandle Piecemakers Quilt Guild
Judged Quilt Show, Door Prizes, Large Merchant Area
M. K. Brown Civic Auditorium
1000 N. Sumner St., Pampa, TX
Sat. 10:00 - 5:00, Sun. 1:00 - 5:00
Admission: $3, both days
806-665-4867--ppqg@hotmail.com
October 6-7
Emporia, KS Regional Quilter's Guild
"The Creative Thread - Past-Present"
Lectures by: Barbara Brackman, Ruth Powers, Ann Watkins. Quilt appraisals
Hours: 10:00 a.m. - 5:00 p.m., both days
Show $2.00--Lectures $5.00 per person
Karen Scott 316-342-0593
CLOSING THOUGHT..........
This is a compilation of actual Church Bulletins and Service bloopers which I found quite amusing and thought you would too:
* Don't let worry kill you--let the church help.
* This afternoon there will be a meeting in the South and North ends of the church. Children will be baptized at both ends.
* Thursday night--Potluck supper. Prayer and medication to follow.
* Eight new choir robes are currently needed, due to the addition of several new members and to the deterioration of some older ones.
* During the absence of our pastor, we enjoyed the rare privilege of hearing a good sermon when A. B. Doe supplied our pulpit.
* The eighth graders will be presenting Shakespeare's Hamlet" in the church basement on Friday at 7 p.m. The congregation is invited to attend this tragedy.